Choosing The Best RC Cars To Bash For You
Commonly, when it comes to RC cars, bashing is the single most popular way of enjoying your time. Bashing is defined as using the RC without racing in mind, or if you're like me bashing means sending your RC car to the moon! Then hopefully landing in one piece so you can send it, again! However, starting with one of the best RC car bashers will make it much easier to enjoy your time out.
As you may have discovered when getting into this hobby, there are so many choices and decisions you have to make when buying an RC car. Though, most have many things in common, they also have many differences. No matter whether you are looking for the best bang for your buck or are just looking for the best basher money can buy, there is something for everybody on this list!
What We Are Looking For In The Best RC Cars To Bash?
Before we start this list, it's important to know what kind of RC car you are actually looking for. The most important things to have in your best RC cars all around is:
Reliability – pop in a battery and go whenever you want. Granted, there is always maintenance when it comes to hobbies like this which should also be kept in mind. 
Sturdiness – Bad landings or average crashing won't have you stressed about replacing parts every time.
Cost & Ease of Access to Parts – Something most people never even consider when buying a car. Cheap doesn't always mean good, especially when it's not a well-known brand.
We will be ranking each of the best RC cars on this list in those 3 categories as well as mentioning anything that needs to be brought to light.
It is important to keep in mind where you will be driving your RC cars. There are very few, if any, conditions that I could recommend buying a 2wd RC car for bashing. In the case that you would have a 2wd RC for bashing you would have to be choosing your locations for driving carefully in order to enjoy your time. 2wd's are a lot more affordable but since we are going for the best RC cars for enjoyment while bashing only, 4WD is the way to go.  
The Best Bang For The Buck RC Cars Available
Redcat Racing 1:10 Tornado EPX PRO - $249
The Tornado EPX PRO includes a 2.4GHz radio system, powerful brushless power system, high torque steering servo, and many blue anodized aluminum parts. This is the only RC car on the list that actually includes a lipo and charger so you can be up and running right out of the box. The included 2s 7.4v 3500mah 15c is enough to get you started but to pull some serious power out of this buggy you'll want to pop a 3s with a rating of at least 50c. 
All around for the price you really can't beat this buggy.
There should be no surprise that up on this list is Arrma. The durability on these RC's are literally the definition of the phrase "Arrma Tough". With 4WD and a powerful Spectrum™ Firma™ brushless motor these budget bashers reach 50+ mph on 3s lipos! The price is definitely one of the biggest selling points of these trucks along with everything you can put them through and they just keep going! No one would argue bringing this 3s line up for discussion in the best rc cars on a budget. Any skill level can enjoy these cars.
Since Arrma is a part of Horizon Hobby you have no worries with part prices or availability. Local brick & mortar shops, Horizon Hobby, eBay should all carry parts for this truck.
Since the 3s line is all based on the same platform, have the same part availability, reliability, etc. you can just choose the style that suits you best.
4WD Buggy perfect of short grass, loose dirt, track or on-road bashing. Plus this RC flys so straight and smooth in the air you can just send it to the moon!
4WD Monster Truck with a longer wheelbase than the granite making it more stable and less prone to roll when taking turns. Any terrain you can think of this is perfect for.
4WD Short Course Truck with the ability to go almost anywhere. Not as high off the ground as the Big Rock so this truck has no problem putting all its power to the ground and just goes.
Redcat Racing 1:8 Landslide XTE - $319
Redcat has been around for awhile and they aren't going anywhere, even though it may seem that way since this car always seems to sell out every restock! This RC car is unlike other Monster Truck platforms on this list. Redcat has designed this one keeping in mind how easily Monster Trucks like to roll. The Landslide XTE has a low center of gravity with a wider wheel base to stay under control while you're laying down the power. This is the first 4s truck on this list which seems strange looking at the price but keep in mind you will need x2 2s Lipos to have this truck up and running.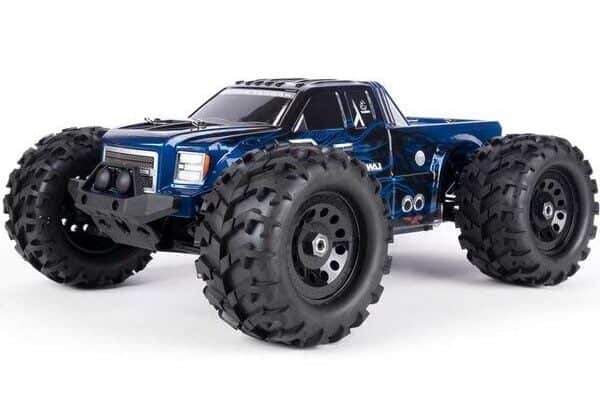 Traxxas Rustler 1:10 4X4 - $429
The price seems a bit high to be in this beginner range but you pay for the brand name with this one. Traxxas has been around forever, has been being tested then approved upon forever so you can't go wrong with this platform. I can't say I have ever been to a hobby store that doesn't carry parts for Traxxas RC's. 
This truck has Traxxas's patented "clipless" body system to ease the stresses of losing those small body clips along with a TSM (Traxxas Stability Management) radio & receiver meaning when the truck slides left or right it automatically corrects itself. So you should have no problem squaring up to hit every jump just perfectly.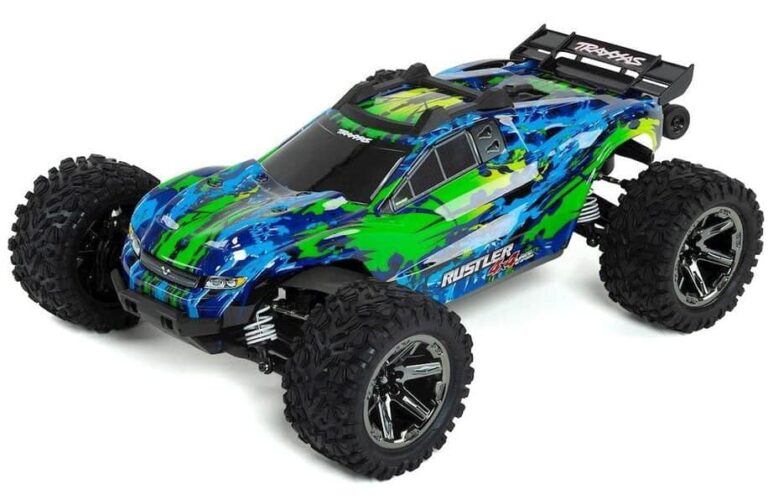 The All Around Best RC Cars To Bash
Moving up in scale here which means the weight of your truck will start playing a bigger factor in breakages. Bad landings or hard crashes could mean worse breakages.
Traxxas 1:10* Maxx - $549
Ever wanted to find the all around best RC car basher? Because if we were looking for it. This would be it! This 4s Monster Truck has everything going for it. It's huge for a 10th scale, 60+mph and above all built to take a beating!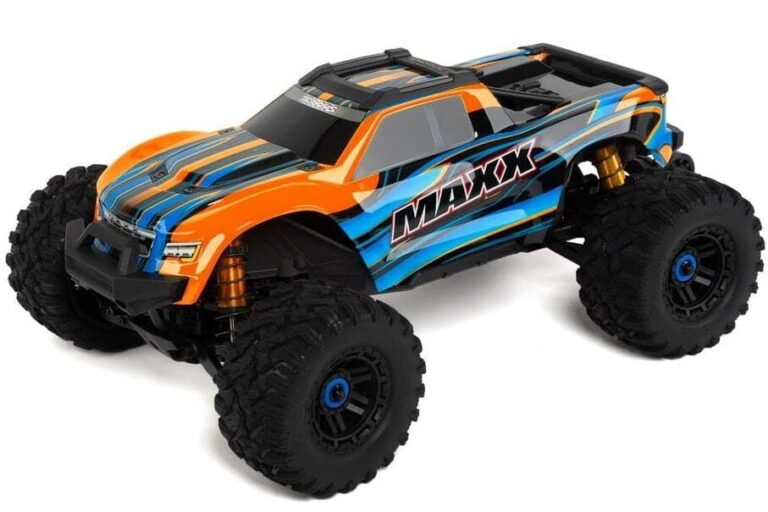 Arrma 1:8 Kraton 6s - $569
The first time I saw this truck I snatched it up. This is the perfect mix between racing and bashing. The speed of this thing could get you into trouble but luckily enough this truck can take its fair share of abuse. I've sent this truck 40ft in the air without issues. If any truck deserves the best RC cars award, all around it's definitely this monster. 
Best Of The Best RC Cars To Bash
Arrma 1:5 Kraton 8s - $899
Just like its little brother this truck is an absolute beast being the perfect mix between racing and bashing. However, this version has a little bit more going for it. It is GIANT Best RC Cars, just like the XMaxx. Any terrain or jump you have to throw at this truck it can handle it. Trust me. Make sure you're strong enough to pick this truck up though.
Seeing the monstrous size of this behemoth might make you think this truck is slow. Don't let that fool you, this truck is loaded with an 8s system that hauls ass 50+mph. I don't think I heard anyone complain about the durability of this truck, but the price? Maybe. Coming in at about $1,000. You get what you pay for with this monster's best rc cars.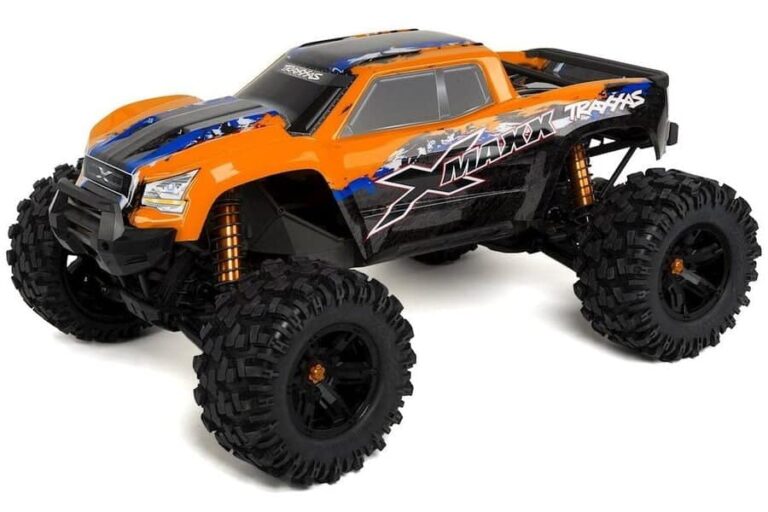 As you can see, there are so many options to choose from when deciding which basher you want. Even more options and brands that aren't even on this list. Whatever you decide on, make sure it's up to your standards and you can easily find parts for it. The worst thing about the Best RC Cars hobby is breaking your car and having to wait for the parts. Waiting could be a few weeks vs a few days depending on the brand you decide. This list should have at least given you what to expect and look out for. 
Give 'em hell and send them to the MOON!